10 Stylish DIY Halloween Decorations That Won't Break The Bank
We had so much fun preparing this blog post…it's scary! Ok corny but we had to say it. It's October now and the seasons are changing, the leaves are falling, and it's time to start putting up Halloween decorations in preparation for the big spooky night! DIY Halloween decorations are so much fun to make and provide a great way to spend time with your family or your friends. Whether it's family craft night or you've invited your pals over for some spooky fun and boos (see what we did there?), these ten DIY Halloween decorations are sure to please, and we think they are pretty stylish too. Did we mention that they're easy and cheap too? Find supplies for all of these decoration ideas at your local Halloween store or craft supply store.
1. Chic No-Carve Pumpkins
These darling little pumpkins are just screaming style AND you probably already have all of the supplies at home to make these! Head over to Brit + Co for the full tutorial. Display these chic Halloween decorations on your front step or by your fireplace.
2. Skull String Art
We love this DIY Halloween decoration because it's a statement piece that you'll be able to use for years to come. Elsie and Emma from A Beautiful Mess have compiled the full tutorial for you here. Who says you can't be an artist at Halloween?
3. DIY Halloween Centerpiece
4. Candy Corn Garland
Disclaimer on this Halloween decoration idea: if you have small children or pets, make sure you hang these high enough so the candy corn doesn't end up in the wrong tummy! Monofilament fish line, candy corn, and some tape is all you need for this fun (and delicious) Halloween craft.
5. DIY Halloween Tin Can Luminaries
These easy and affordable Tin Can Luminaries by Jolly Mom are fun and customizable. With just a few supplies, you can design a variety of spooky words or images into the tins, then line them along your steps or sidewalk for a fun dramatic effect. Click here for the tutorial.
6. DIY Mummy Front Door Decor
This Mummy Front Door DIY Halloween decoration can be made for under $10, and look how cute it is! Bonus if you have an orange or yellow door….
7. Pacman Halloween Garland
8. Bottle of Boos
We had to sneak this one in here – it's so clever and if you haven't guessed it yet, we love free printables! Head over to Muslin & Merlot for this quick DIY decoration idea. Tag us in your Facebook pictures if you create these, we want to see what clever names you come up with!
9. Candy Corn Wreath Upcycle
10. Trash Bag Halloween Spider Webs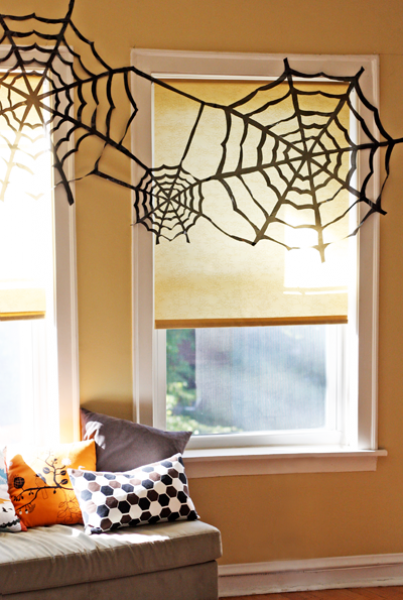 We love this DIY idea almost as much as we love the reason behind it.
Jessica Jones had three criteria for this Halloween decoration idea: dramatic, cheap, and no going to the store required. How creative is this? Check out how to make these for your home here.
We hope these DIY Halloween decorations have inspired you to get creative, get crafting, and get your space decorated for Halloween. Tag us in your photos on Facebook @thecleanerhome or on Instagram @microban. Enjoy!