4 Healthy Appetizers for the 4th of July
Red, white and blue is in the sky and on your plate, too. While firework safety might be a priority, eating clean and healthy is also something to be cautious of while celebrating Independence Day. Now, we're not going to tell you to avoid all the goodies from the grill, but instead, we hand-selected you a few healthier alternatives to your Fourth of July appetizers from some of our favorite bloggers across the web.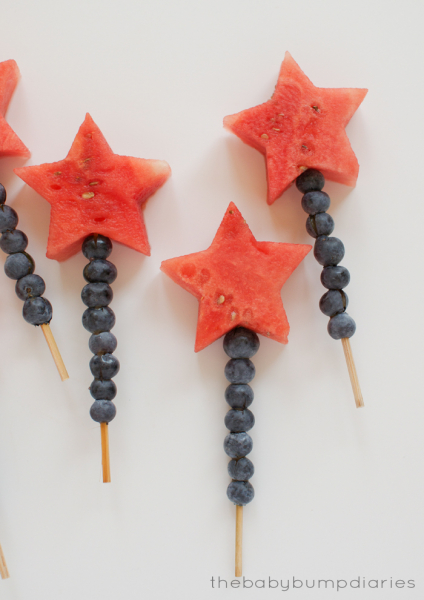 Perhaps the official food of July, watermelon will always be the perfect snack to celebrate July 4th. While we have no objection to simply eating watermelon slices alone, this recipe is an easy way to get your watermelon fix in a pretty Instagram-worthy fashion. Added bonus, the sweet summertime blueberries, making this the most festive of snacks. (Images and recipe by The Baby Bump Diaries)
Who says salads have to be boring? Not us. We can't tell if this spinach, fruit and feta salad looks more delicious or too pretty to eat. Make individual salads in mason jars or just serve it family style and throw it all in one bowl. It will taste great and look awesome either way. (Images and recipe by The Cookie Rookie)
Fourth of July is the perfect opportunity to fire up the grill but it doesn't have to be all hamburgers and hotdogs. Plus, just because your main dish might be off the grill there's no reason your appetizers can't be too. Plus, these shrimp and sausage skewers come with a full serving of vegetables. Otherwise called, a win/win. (Pictures and recipe from Bon Appetit)
Heading to a cookout but need something to bring? This strawberry and blueberry dip can be made the day before the big bash to keep party day worry-free. It's a refreshing and healthy snack partygoers will love no matter what time the party takes place. (Recipe and pictures by Two Peas and Their Pod)
With these healthy appetizers, you can enjoy your holiday with a few less calories and no less fun.
For more tips on a cleaner and healthier lifestyle like us on Facebook!