Five New Family Traditions to Explore this Holiday Season
Create Lasting Memories with New Holiday Traditions
The holiday season is upon us again, and it's time to start thinking about how you will pull off those treasured family traditions that many of us hold dear each season. While you are at it, why not consider some new traditions to add to the mix? As our kids grow up and family dynamics change, it's important to get everyone involved in deciding what activities to engage in as a family. Doing so eases the stress a little and helps ensure that you don't have to drag everyone...sometimes kicking and screaming – to every family holiday event. Check out the list below for some idea starters to start new traditions with your family.
Friendsgiving
This is not as much as new tradition as one that is growing in popularity. It's not just for singles who don't have family nearby anymore, and it doesn't have to be confined to Thanksgiving (but you would need to call it something else!). As family structures and dynamics continue to evolve, more and more people are embracing the idea of having friends join with their family for holiday meals. It can be as simple as inviting neighbors (who often are very much like family) over for a pre-Thanksgiving potluck. The kids have an opportunity to play, the adults have an opportunity to relax – everyone is happy! Food Network has great tips on how to kick off a Friendsgiving tradition, including when to host and how to set your table. The upside is that you extend the holiday, which is really about family AND friends, by adding a low pressure, fun experience.
Secret Santa
This is a great new tradition to consider, especially for large families. When there are lots of people to buy for, holiday gift giving can be extremely stressful. Does anyone really need 8 new pairs of socks from different family members? The great thing about a new Secret Santa tradition is that you and your family set the rules – you can make it as complicated or simple as you'd like. We love this family gift exchange guide from Lifehacker to take the guess work out of getting started. While it's less stressful and less costly, buying "secret" gifts for your family can be daunting, particularly if your family includes a wide range of ages and interests. Town & Country Magazine has you covered with a list of gift ideas curated for the Secret Santa participant. This new tradition saves time, money and you may even get a gift you didn't know you wanted!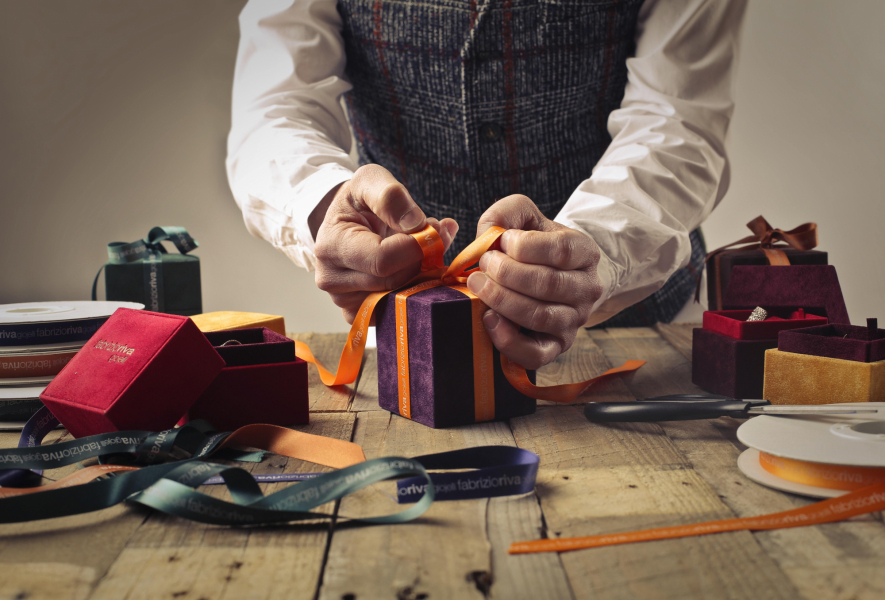 Volunteer as a Family
The holiday season brings out the best in people and there are tons of opportunities to let your giving light shine. It's a great time to consider volunteering as a family. It is one of the few times of year that parents and kids are all home and available at the same time. Volunteering as a family can be as simple as collecting food items together for your local food pantry or decorating holiday cards for service members overseas. Look around your community for kid-friendly opportunities to give back. Volunteering together is a family tradition that can carry well-beyond the holidays and provide children with a lasting desire to support their communities. It's a gift that keeps on giving!
Enjoy a Non-Traditional Holiday Meal
Is your family fed up with the traditional holiday meal? Have you noticed that fewer people are going back for seconds every year? It might be time to spice up your holiday dinner menu with some non-traditional options that your family will still love. Let's start with the obvious – turkey alternatives – we love these simple ideas from Prima Magazine that will give your meal a bit of a British flair. Next, the starch. Whether your potatoes are white or sweet, mashed or souffled, this might the year to think of doing something new or scrapping the potato altogether for a creamy mashed vegetable alternative. This list of non-traditional mashes from Chowhound features a little bit of everything to get you out of your potato rut. Lastly there is the dessert – to be enjoyed for several days following the holiday meal – so it better be good! We are pretty wild about the cinnamon roll apple pie highlighted in this blog by dropps. Whatever you decide to do with your holiday meal, don't be afraid to take chances and get input from your family about what foods they'd like to enjoy in the holiday meal. More input means fewer leftovers!
Skip the Traditional Holiday Gathering and Travel as a Family
Granted, traveling with the entire family can be challenging, but if you plan correctly, it can be a less stressful holiday tradition that pays dividends. We all agree that travel is great for kids – it opens their minds to a world beyond their front door, making them more well-rounded, empathetic and knowledgeable human beings. If that's not enough to convince you to adjust your traditional holiday plans, maybe this list of easy family travel destinations from The Travel Channel will do the trick. You can make holiday travel simple – visit a place you've never been in your own state – or more adventurous – like taking advantage of holiday travel deals and discounts to visit another country. And, you don't have to commit to this tradition every year – you can alternate years and even involve your extended family.
Whether you are part of a young family looking for new traditions that bring you closer during the holiday season, or just looking to add something new to the time honored traditions you hold dear, think outside-the-box this holiday season. This time of year is really about time with your loved ones and creating memories that really do last a lifetime. Guided by those goals, you cannot go wrong, no matter what traditions you choose to participate in. Happy holidays to you and yours!