Spring Family Fun with a Scavenger Hunt
As we get into the beautiful spring weather, it's all about getting outdoors. This month, Clair offers a fun activity for the whole family to enjoy: a backyard springtime scavenger hunt!
Welcome to spring! I am more than thrilled that spring has officially arrived. So much fun to be had this spring thanks to the warmer weather finally heading our way. Here is a fun activity that will not only get the entire family engaging with each other but will get everyone outdoors!
Take advantage of all that spring has to offer.
The weather in Louisiana may get warmer sooner than other places. We want to take full advantage of all this beautiful weather when it is here. This means getting outdoors as readily as possible. The outdoors during spring has so much to offer you.
My kids are all about playing in the dirt and finding ways to be creative while being outdoors. Even if it means a little more cleaning on my side of things, we are all making the best of these warmer days.
One way to really get the kids outdoors and enjoying every moment of it is with a little scavenger hunt.
Spring has sprung and so has all things outdoors!
As I mentioned earlier, we love to find any way to get us outdoors. Spring is the best time for us here in Louisiana because it has not gotten too hot. Summer in Louisiana gets to the point where it is impossible to be outside unless water is involved. I am in no way exaggerating this amount of heat that arises in the south. We all greet spring like the beautiful season it is and by getting outdoors.
A few of our favorite activities include chalk, bubbles, gardening, obstacle courses, bike riding, and you guessed it, scavenger hunts. Picnics are even a lot of fun, especially when you have products like California Innovations to help keep your food chilled. Keep reading if you want to learn how to create your very own spring inspired scavenger hunt.
How to create your own scavenger hunt with the kids.
If you have kids, then you probably already know the amount of fun that can come from a great scavenger hunt. My kids love to do scavenger hunts! We have participated in event scavenger hunts as well as ones that we have created ourselves. There is something exciting about a great search and find game.
Did you know that it is easy to create your very own scavenger hunt game? It most certainly is! My kids have even helped designed their very own scavenger hunt. I figured why not share with all of you how to create your very own scavenger hunt with the kids.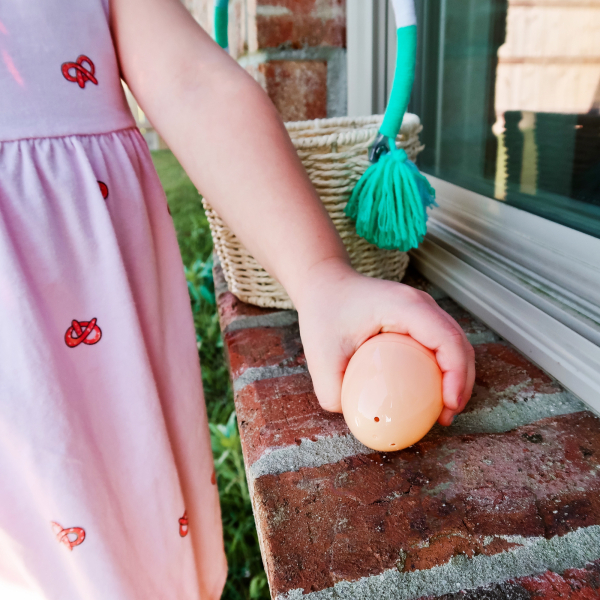 Location, location, location.
The point of this scavenger hunt is to get everyone outdoors. If the weather is impossible for holding the scavenger hunt outside, then it can most definitely be done indoors. As for the outdoor scavenger hunt, make sure you are hiding the clues in areas that are considered safe. A backyard area would be much better than having it near a street in the front.
I know that when my kids get excited about anything, they lose all sense of danger. Their mindset quickly focuses on the task at hand than the dangers that may be present around them. You also want to have places that are reasonable to get too. For example, I would say hide a clue at the front of a flower bed rather than close to a rose bush. I know these seem like obvious suggestions but still wanted to put it out there.
Areas with grass or turf, like Smart Turf, you can make the most of them running around.
Clue Containers
Now for those clue containers. Since we are holding this scavenger hunt outside, you want to make sure that the clues themselves do not get destroyed by the environment they are in. The best option for keeping these clues intact as well as making it easier for them to be hidden is by placing them into plastic eggs. We are in the month April, and it should not be a problem locating these right now. They also make it fun for the kids to find! My kids love to find plastic eggs, even if they are not a part of a game.
The Clues
The clues are a major part of the scavenger hunt. It is the clues that give purpose to the search and find game. This scavenger hunt includes not just the clue, but a fun activity to go along with it. Here is where I put a little twist on the clue idea. A little arts and crafts activity!
For each clue, you will be giving directions to the next 'clue' spot. The last and final spot can be a fun activity for all to do with the collection of all the clues! With colors, markers, and a printer, this spring inspired scavenger hunt will be one that is possibly stay on repeat.
Creating the Coloring Sheet Puzzle
To create the coloring sheet puzzle, you will need to download and print out any of these spring-inspired coloring sheets. Then with a pair of scissors, carefully cut the image into different pieces, much like a puzzle piece.
The Spring Inspired Scavenger Hunt Craft
You all may be wondering what type of craft or activity I keep mentioning. This craft keeps the scavenger hunt going, by giving the kids something to look forward to when they reach the end! For each clue, there will be a piece of their coloring sheet puzzle. When all the clues have been collected, the last clue will direct them to an area for coloring and gluing/taping all the images that were collected during the scavenger hunt to create one picture!
For us, the scavenger hunt will end at a table that has snacks, drinks and all the items needed for coloring their images!
Tools Needed for the Scavenger Hunt
Let us go over all that is needed for the scavenger hunt. You need the space for holding the scavenger hunt. Other than the space, you need plastic eggs, paper, access to a printer, scissors, tape/glue and the craft table for the end of the scavenger hunt. This would include the crayons, markers, and as well as any treats!

As for the paper, I would recommend a sturdier paper like cardstock. That way it will be easier to put back together at the very end! Here are the color puzzle sheets to print out. Cut out each piece and place in a plastic egg.
Make the most of this spring and host a scavenger hunt.
This spring take the time to engage with your kids and get outdoors. I hope you all enjoy this activity us match as we did.